Teiji Tominaga
Development of Pulsed Water Jet Device for achieving both maximum lesion removal and function maintenance through preservation of small vessels and nerves
Development supervisor
Teiji Tominaga
Professor, Department of Neurosurgery, Tohoku University Graduate School of Medicine
Innovative surgical device without heat damage, which finally promotes the quality of life (QOL) of postoperative patients.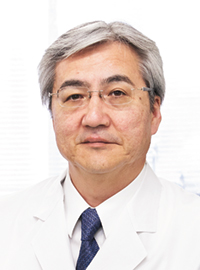 Water jet technology facilitates tissue dissection without damaging small vessels and nerves. Our team applied micro liter per shots pulsed water jet available a surgical device for first time in the world, seeking to achieve both maximum lesion removal and function maintenance through preservation of small vessels and nerves. Our technology not only decreases physical burden and increases safety on a patients, but also differentiates from competitive technology in terms of miniaturization, which promotes bringing this technology into minimally invasive surgery, such as endoscopy or even robotic surgery. We have already showed proof of concepts in microscopic, neuroendoscopic environment in animal studies using various methods, such as immunohistochemistory and electophysiological measurement. We have also started to show clinical proof of concepts in neurosurgery including socioeconomical impact of this technology.
---
Seeking for NEW VALUE
Consideration of human engineering (ergonomics)
Our goal is not only delivering excellent technology for better dissection but also making it more user friendly through ergonomic approach. We believe that surgical instrument with less fatigue will create better surgeon's performance, finally better outcome for the patients. At CRIETO, we have been working in multidisciplinary team, trying to create a value that can be contributed for delivering excellent medical patients with less cost.

Providing platform for multidisciplinary team
Many physicians and researchers from various regions including the cerebrospinal field participated in product development. Active discussions with many staff members were carried out daily with the common goal of "producing something never seen before."