Shinji Kamakura
Bone Regenerative Therapy by Octacalcium Phosphate Collagen Composites (OCP/Col)
Development supervisor
Shinji Kamakura
Professor, Bone Regenerative Engineering Laboratory, Regenerative and Biomedical Engineering Division, Graduate School of Biomedical Engineering, Tohoku University
Currently, an implantation of autogenous bone is a gold standard for bone regeneration, whereas it has disadvantages such as limited availability and morbidity associated with harvesting bone from a second operative site.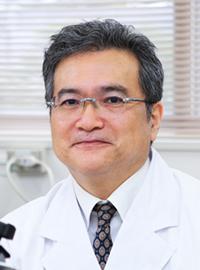 Professor Kamakura et al. have developed a new biomimetic bone regenerative material of OCP/Col, which is constructed of synthetic octacalcium phosphate (OCP) and porcine atelocollagen. And it has the characteristics as follows:
1) OCP/Col achieved sufficient bone regeneration without exogenous cell transplantation and cytokines.
2) OCP/Col-derived bone would be coordinated with physiological bone remodeling, and indicated similar structure as well as original bone.
3) OCP/Col which has no need of complicated operation and management system is easy directions for use and has prominent cost-benefit effect.
These effects have been reported at the scientific conferences and published in journals over the past decade.

With the spread of bone regenerative therapy by OCP/Col, it would be expected the reduction of autologous bone grafting and alleviation of pain for patients. Because this therapy utilizes the natural function of cells in the body, OCP/Col would be applicable for bone regeneration in emergency surgery, orthopedics, and bone defects due to craniotomy or thoracotomy.

---
Figure legends
Figure 1: OCP/collagen composites (OCP/Col) is a sponge-like and soft material. It can be easily inserted in the shape of the bone defect.
Figure 2: Bone regenerative process after OCP/Col implantation in rodent calvarial defects
Radiographic changes are indicated in upper row. Although OCP/Col itself has little radiopacity and appears black, the OCP/Col-implanted site becomes fused and condensed with time. Histological changes are indicated in lower row. Many cells are invaded into the reticulum of OCP/Col sponge, and new bone (B) is formed. After implantation of eight weeks, newly formed bone matured (B) and OCP/Col has been resorbed with bone remodeling.